Camp Information
There is plenty to do at Colby Kids Camp. The arts and crafts room is just for Colby Junior Great Books attendees and siblings. The coffee house at Mary Low makes a great hangout for board games, quiet play and relaxation in the evening. During the day, the counselors supervise fun activities for all Juniors and siblings. At 1:00 PM, book discussions begin. Afterwards there is time for other activities, such as rehearsal for the the Kids component of the talent show held Thursday night.
The Colby Kids Camp offers:
Indoor and Outdoor games
The Talent Show
Full run of the campus
Access to a beautiful nearby lake for swimming
Art
College meals and dorm living
Socializing with new and old friends
Colby's gym, tennis courts, running track, olympic pool
Junior Great Books at Colby 2016
Middle and Older Group — Grades 9 - 12
Jacob Have I Loved,
by Katherine Paterson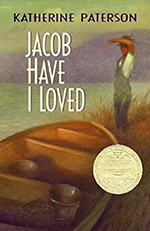 Taking its title from the Biblical story about Jacob and Eseau, the contentious twin sons of Isaac and Rebecca, Jacob I Have Loved portrays a girl's search for and acceptance of self. Set in Chesapeake Bay on the fictional crabbing island of Raff in the 1940s, the novel explores the sibling rivalry between Sara Louise and her twin sister Caroline. Louise lives in the shadow of her attractive and talented sister. Her family sacrifices to nurture Caroline's music talent and pays little attention to Louise, whose attempts to establish relationships frequently end in heartache. Self-reliant, Louise finds it within herself to fashion a rewarding life.
The Sand Reckoner,
by Gillian Bradshaw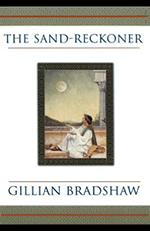 This historical fiction novel, an engaging story of love, war, and family responsibilities, recreates the life of Archimedes, the most brilliant engineer and mathematician in the classical world. While studying at Ptolemy's museum in Alexandria and pondering how to express a huge number - the number of grains of sand it would take to fill the whole universe - Archimedes learns that his father is terribly ill and the Roman army is attacking the Greek city of Syracuse. He returns to Syracuse and helps the Greek state, putting his engineering expertise to use by designing deadly, sophisticated catapults for King Herion. Their effectiveness enables the king to broker a treaty with the Roman commander.
Our Only May Amelia,
by Jennifer L. Holm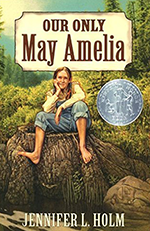 May Amelia, the headstrong twelve-year-old protagonist of this coming of age novel set along the wild reaches of the Nasel River in Washington State in 1899, hangs around with her seven Finnish brothers and is frequently in trouble. The only girl ever born in her pioneer settlement, the pressure put on her to be a Proper Young Lady frustrates her, and she fights for her independence. Based on the diaries of the author's great-aunt, this moving story of May Amelia's searching for her place within her family will resonate with many readers.
Crossing Stones
by Helen Frost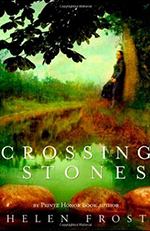 Crossing Stones shows two families living on a opposite sides of a countryside creek in Michigan attempting to cross thoughtfully, stone by stone, into a shifting world. Written in beautifully crafted verse spanning nine months from 1917 to 1918 during World War I, the novel offers three perspectives on family, war, and loss. Ollie's poems relate his war experiences until an injury forces him to return home. Emma's explore her family's struggles to cope with the loss of her brother Frank, who is killed in the war. Both Emma's and Ollie's reveal a growing love between them. Muriel's strong-willed voice conveys her clear opposition to the war and her attraction to her Aunt Vera's support for women's causes.
Younger Group — Grades 6-8
The Prince & the Pauper, ,
by Mark Twain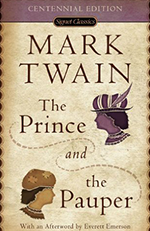 In a twist of fate, Tom Canty, a pauper, exchanges stations and roles with Edward Tudor, the Prince of England. Both experience a series of adventures and ordeals. Eventually Edward, now aware of the suffering some experience due to the injustice of English laws, returns to his rightful place, and with Tom's help is crowned king, ruling with compassion and giving Tom a position of honor. This classic of American literature explores the problems inherent in separating truth from falsehood and in judging others based on appearances.
One Crazy Summer,
by Rita Williams-Garcia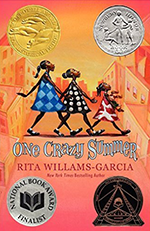 Offering a child's eye view of the Black Panther movement, One Crazy Summer is the story of three sisters who travel from Brooklyn to Oakland, California in the turbulent summer of 1968 to spend a month with the mother who abandoned them and whom they hardly know. Rather than warmly welcoming 11-year-old Delphine and her younger sisters Vonetta and Fern, their mother, a poet and printer, resents their presence and sends them to summer camp at the Black Panther's People's Center, where they make friends and do their part to help the movement. This powerful tale of motherhood and sisterhood is both touching and humorous.
Flora & Ulysses: The Illuminated Adventures ,
by Kate DiCamillo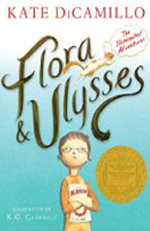 After ten-year-old comic book aficionado Flora Belle Buckman befriends Ulysses, a squirrel she has rescued from an improbable encounter with a vacuum cleaner, she discovers the revived squirrel has gained superpowers. They develop a nurturing relationship. Blending comic book elements into the narrative, this endearing adventure novel uses humor in both the story and the illustrations by K.G. Cambell to explore themes of loneliness, love, and hope.
Matilda,
by Roald Dahl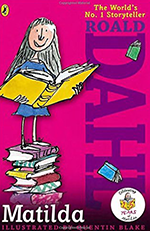 by Roald Dahl Matilda is a bright young girl with extraordinary powers and uncaring parents. She hopes life at school will be a positive change from life at home. Her classmates welcome her, but Matilda and her teacher, Miss Honey, are confronted by the terrible headmistress, Miss Trunchbill. Matilda defends her teacher, using her intelligence and cleverness to exact revenge on Trunchbill.